Decoding your target audience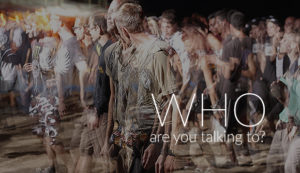 With a new year around the corner, come the New Years resolutions and goals, in our personal lives as well as our  businesses. We all want the next year to be better than the past. Great – but have you done the planning in order to become successful? Have you nailed down your target?
Knowing your audience is a little trickier for B2B businesses than B2C. Often, there is more than one decision maker. The age group might not be a factor, neither male or female, and so on. So what to do? As business owners, we are all really crunched for time and to get you started, I've put together a list of things you can do to narrow down the field. Let's break it down.
1. Know your value – what you are bringing to the table
First, you need to be very clear on what you do best and why a potential client would be interested. Ask yourself:
What's your core product or service?
What is the #1 thing your customers would see the most value in?
Who would benefit most from what you offer?
Based on your core product, who would find the most value in it?
What problem do you solve?
This is the biggie. And most likely, this is an area where you already have the expertise. You probably started your business because there was a need for what you do. You identified it and built your business around it.
What makes your business unique?
You HAVE to have a unique value proposition to separate yourself from your competition. If not, you will be competing on just the price.
2. Your brand – your culture
Make sure that your business persona attracts the people you are targeting. Obviously a hip brand is most likely not going to do very well if your audience is 65+. Sure, some will love it but you are not maximizing your reach. If you have more than one audience, settle for a more generic look. This does not mean that you have to compromise personality.
3. Analyze
Look at your current audience – utilize all the data you can get from analytics, past success – who were the prospects? Revisit tests, etc.
Stay on top of industry trends
4. Create highly detailed marketing personas
What's a marketing persona you might ask and why do I need them?
As defined by Ardath Albee, a persona is a composite sketch of a target market based on validated commonalities – not assumptions – that informs content strategy to drive productive buyer engagement (i.e., revenue).
In short you want your marketing personas be as detailed as possible. They should include demographic, values, attitudes, interests and personality traits, age, lifestyle, responsibilities, communication preferences and media consumption.
This will take some time and effort but without personas you are guessing on the need of your audience and in the end, create your content based on your experience; which is (you guessed it) your product or business. What your audience is actually seeking will fly above your radar.
Creating personas will take time and it's a process that I am not going into here. Here are a few great
resources
to
get you started.
5. Check out your competitors
Who are they targeting?
What seem to be working?
What needs are they not meeting?
6. Find your audience
Now it's time to dig up the info on the businesses and decision makers you are zooming in on. Find out how to get on their radar.
What network events do they go to?
How should they be approached?
Where do they hang out?
Are they readers, social?
Do they participate in specific activities?
What's their culture?
7. Test
Always test your campaigns. Today, there are plenty of tools to test direct mail and landing pages as well as and social media campaigns.
8. Get involved
Chat, join, like, blog and network. Get personal with influencers, customers and prospects
9. Challenge yourself and reassess
Don't assume you understand your customers. Technology is changing daily and what worked 6 months ago might not be current today.
Step back and reassess as your business evolves.
Listen to your customers. There are countless services today that's easy to utilize to do a survey of your customers to help you understand their needs
So there you have it. I hope this condensed guide will be helpful to you in the coming year to take the guessing out of your marketing.
Want to talk more? Give us a call – 850.393.4605.